Number of servings: 4
Calories per serving: 421
Preparation time: 15 min
Total time: 35 min
Ingredients
Nonstick cooking spray
1 tbsp olive oil
1⁄2 cup chopped onion
3 minced garlic cloves
2 cups water
2 cups green beans, cut into 1-inch lengths
1 cup thinly sliced carrots
2 oz medium pasta shells
1 (15-oz) can low-sodium garbanzo beans, drained
1 (15-oz) can low-sodium kidney beans, drained
1 (8-oz) can tomato sauce, no salt added
1 (14 1⁄2-oz) can diced tomatoes, Italian style
1⁄2 tsp onion powder
1⁄2 tsp salt-free Mrs. Dash† Original Blend Seasoning
1 tsp basil
1 tsp oregano
1⁄2 cup Parmesan cheese
*Nutrition values are estimates. Actual nutrition values may vary depending on specific types and amounts of ingredients used.
Reading the Nutrition Facts Labels
Directions
1. Spray a large saucepan with nonstick cooking spray. Place the saucepan over medium-high heat and add olive oil. When hot, add the onion and garlic and sauté for 1 to 2 minutes.
2. Add water, green beans, carrots, pasta, beans, tomato sauce, tomatoes, onion powder, salt-free seasoning, basil, and oregano.
3. Bring to a boil. Cover. Reduce heat to simmer and cook 15 to 20 minutes or until vegetables are tender.
4. Top each serving with cheese.
Makes 4 servings.
†Other brands listed are the trademarks of their respective owners and are not trademarks of Merck Sharp & Dohme Corp., a subsidiary of Merck & Co., Inc.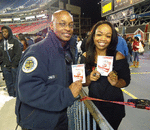 Posted By: Elynor Moss
Tuesday, January 17th 2017 at 1:45PM
You can also
click here to view all posts by this author...