The Barber Does A Lot Of Talking.
"I Live Out Of The Future."
"What Does that Mean?"
"Some People Live In The Past," He Began,
"Some In The Present And Not Enough Know
To Live Out Of The Future.
He Goes On To Say, I'm Not Going To Worry
About The Past - It's Done And Gone.
And The Present? Look!" "It's Here, It's Gone,
It's Here Again."
He Say, But The Future.........Ah-h-h," He Sighed.
"There's A Lot Of It Waiting Out There And All
One Have To Do Is Decide What Part Of It They
Want."
To Him, This Was Something Larger Then Hope.
It Was Reality. We Can't Go Back To The Past,"
He Repeated. But We Can Live Up To The Future.
Sir How Can We Make It Happen."
"Simple," He Said, "Pray. Thank God.
He's Got It All Laid Out For Us.
***Posted By: Judith A.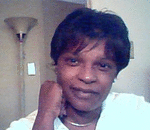 Posted By: Judith A. Birt
Thursday, July 9th 2015 at 10:51PM
You can also
click here to view all posts by this author...