¥ LAUGHTER IS MEDICINE ¥
Laughter is Medicine for the soul, but
sometimes, amid the stresses of the
day, we forget to take our medicine.
Instead of viewing our world with a
mixture of optimism and humor, we
allow worries and distractions to rob
us of the joy that God intends for our
lives. As we go about our daily activi-
ties, approach life with a smile and a
chuckle. After all, God created
laughter for a reason. . . . and Father
indeed Knowles best. So Laugh!
Humor ought to be consecrated and
used for the cause of Christ.
***By: C. H. Surgeon
When, we have good, healthy relati-
onships with our family's and friends
we're more prompted to laugh and
not to take ourselves so seriously.
***By: Dennis Swanberg
--- A PRAYER ---
Lord, when we begin to take ourselves
Or our life too seriously, let us laugh.
When we rush from place to place,
slow us down, Lord, and let us laugh.
Put a smile on our face, Dear Lord,
and let us share that smile with all
who cross our path. . . . and let us
laugh. Amen
***Posted By: Judith A.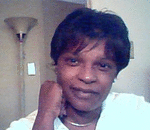 Posted By: Judith A. Birt
Friday, October 16th 2015 at 9:07PM
You can also
click here to view all posts by this author...