¥ He Is God ¥
Sometime, we must accept life on its terms,
not our own. Life has a way of unfolding, not
as we will, but as it will. And sometimes, there
is precious little we can do to change things.
When events transpire that are beyond our
control, we have a choice: we can either learn
the art of acceptance, or we can make ourselves
miserable as we struggle to change the
unchangeable.
We must entrust the things we cannot change to
God. Once we have done so, we can prayerfully
and faithfully tackle the important work that He
has placed before us: the things we can change.
When there is a matter that requires definite prayer,
we are to pray until we believe God and until we
can thank Him for His answer. (1 Samuel 3:18)
***By: Hannah Whitall Smith
¥ A PRAYER ¥
Father, the events of this world unfold according to a
plan that we cannot fully understand. But You understand.
Help us to trust You, Lord, even when we are grieving. Help
us to trust You even when we are confused. Today, in
whatever circumstances we find ourselves, let us trust Your
will and accept Your love completely. Amen
***Posted By: Judith A.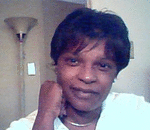 Posted By: Judith A. Birt
Saturday, October 24th 2015 at 11:04PM
You can also
click here to view all posts by this author...