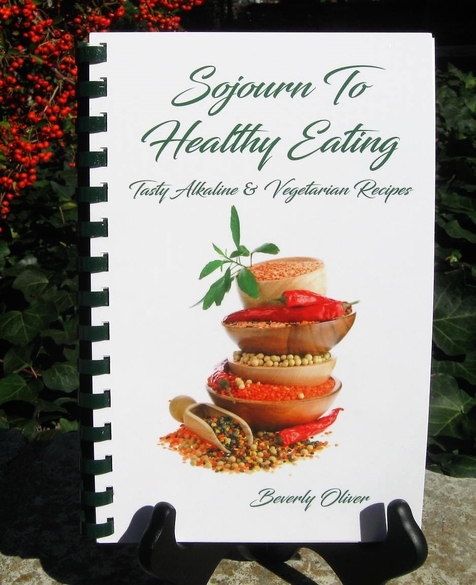 For years, the late pathologist and natural healer Dr. Sebi handed his clients a nutrition guide filled with alkaline food they should eat to maintain the best health. The list contained food native to America, Latin America and the Caribbean. Native plants that grow in these areas, such as the soursop and turnip greens, were well known to Dr. Sebi, an herbal medicine specialist who promoted plant-based, alkaline diets for over 40 years. The question his clients frequently asked—and still ask—was "How do I prepare the ingredients on this nutrition guide?" Dr. Sebi's staff created a draft of a cookbook but it never made it beyond that phase.
Sojourn to Healthy Eating: Tasty Alkaline & Vegetarian Recipes has taken the draft copy a bit farther. It helps fulfill clients' requests for a cookbook with the alkaline ingredients Dr. Sebi recommends.
Inside the book are recipes with quinoa (the new rice), mushrooms, spelt, kamut, dandelion greens, coconut water, agave nectar and fresh ginger, all alkaline ingredients on Dr. Sebi's Nutrition Guide but rarely found in households. The back cover of Sojourn to Healthy Eating says:
"Consider Sojourn to Healthy Eating: Tasty Alkaline & Vegetarian Recipes your guide, a countertop reference leading you on a path to healthy food once thought bland. . . You'll find bona fide alkaline (raw) recipes inside like tasty maple ginger salad dressing."
Newcomers to the world of alkaline meals will find that Sojourn to Healthy Eating is a good resource for experimenting with meatless recipes, especially on those days when you're snowed in with the kids. Children will enjoy the result of those experiments, especially the Blueberry Ice Cream, the Kale-Pineapple Ice Pops, and the colorful Strawberry Lemonade Ice Cream.
Dr. Sebi, who passed away last August, consistently recommended herbs, iron, and alkaline food. He wanted everyone to understand the importance of eating natural food with little or no starch; more fruit and vegetable-filled meals for the best health. Sojourn to Healthy Eating: Tasty Alkaline & Vegetarian Recipes continues that platform.
http://www.sojourntohealthyeating.com
Posted By: Beverly Oliver
Friday, February 10th 2017 at 5:41PM
You can also
click here to view all posts by this author...